FRIDAY 22nd SEPTEMBER 2023 - NON UNIFORM DAY in SCHOOL
FRIDAY 22nd SEPTEMBER 2023 - NON UNIFORM DAY in SCHOOL
18 September 2023 (by admin)
We will be having a NON-UNIFORM day in St. Bernard's Catholic Primary School on FRIDAY 22nd September this week. We are asking for each child to kindly donate £1 on this day. Why?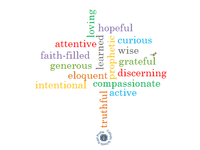 We have been praying for all those people, children, families, communities who have been affected by the tragic events in Morocco (earthquake) and Libya recently (flood-hit Derna region).
Deeply upsetting coverage witnessed. Thousands killed and communities destroyed. Complete and utter devastation!
They are in our thoughts and prayers. God bless to them all.
If you would like to donate money to this cause on Friday 22nd September, simply put it in an envelope and your child can drop it in the school donation buckets when they enter their classrooms.
NON-UNIFORM DAY in school on FRIDAY 22nd September - St. Bernard's trying to 'make a difference' to communities in need!
'One family, following Christ, learning together, making a difference'