CATHOLIC LIFE and RE QUESTIONNAIRE
CATHOLIC LIFE and RE QUESTIONNAIRE
24 November 2022 (by admin)
Every little helps and we need your assistance and support. ALL COMMENTS are read. Can you spend a few moments filling out this questionnaire please?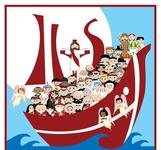 St. Bernard's Catholic Primary School prides itself on working very hard to maintain the best possible standards of Religious Education, inclusivity, school ethos, and the wonderful learning opportunities for all the children in our care.
We would really appreciate your input and partnership.
If you could respond to these questions it would be greatly appreciated.
Mrs. Crehan - RE Lead
https://forms.office.com/r/aWEf43wgS5