FAITH and OUR CHAPLAINCY TEAM 2022 2023
FAITH and OUR CHAPLAINCY TEAM 2022 2023
22 September 2022 (by admin)
Our wonderful mini-faith models lead the way as our CHAPLAINCY TEAM (they even start their after school club today till 4.15pm).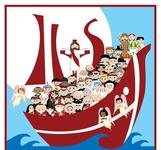 A huge THANK YOU to the team who are giving up their time to lead our FAITH around school and for also committing themselves to the goal of helping us to follow in the footsteps of Christ - they're MAKING the DIFFERENCE (school Mission).
Mehek, Genevieve, Aliha, Dilara, Malaika, Anaya, Akira, Alissa
Lyla, Daima, Monet, Sana, Aoife-Rose, Ayat, Sapphire, Sophie
The CHAPLAINCY TEAM SPIRIT of St. Bernard's 2022-2023
Chaplaincy Team have CHAPLAINCY club on Thursday after school - till 4.15pm.
Mrs. Crehan