CONFIRMING CONFIRMATION - Y6 SPECIAL SACRAMENT
CONFIRMING CONFIRMATION - Y6 SPECIAL SACRAMENT
22 June 2022 (by admin)
Please have our Y6 Confirmandi in your family prayers - they receive the Sacrament of Confirmation this week.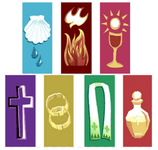 Our wonderful Y6 Confirmandi children celebrate receiving the Fruits and Gifts of the Holy Spirit on FRIDAY 24th June at 6pm at English Martyrs Church - a very special Sacrament indeed.
'Come Holy Spirit and fill the hearts of your faithful'
Confirmation children should arrive at the Church at 5.30pm on Friday with their family and chosen sponsor.
Children should wear smart school uniform.
Please be mindful that traffic may be an issue around this time on a Friday evening, so it is a good idea to arrive early parents.