Sports Premium
St. Bernard's Catholic Primary School works in partnership with fit4schools and our sports premium funding is used for the benefit of all the children in school. Read what they do for our school and for your children...

CLICK on the fit4schools logo
What is Sports Premium?
The dedicated primary PE and Sports premium, which was announced in March 2013, goes directly to primary school Head Teachers so that they can decide how best to use it to provide sporting activities for pupils.
Primary schools in England are encouraged to use the premium to:
invest in quality coaching

up-skill teachers to improve the quality of sports lessons

provide more opportunities for pupils to take part in inter-school competitions

offer more after school extra-curricular activities

purchase better sports equipment

improve sports teaching for children with special educational needs

help children build a healthier lifestyle
Basketball Bill says get fit!
How will it IMPACT in St. Bernard's?
At St. Bernard's Catholic Primary School our dedicated fit4schools coaches provide opportunities for pupils to become physically confident and motivated to achieve in health and fitness. Four tests will be conducted throughout the school year during PE lessons to all children.
Following the testing, data will be collected and uploaded onto the fit4schools system for a comprehensive review. This data is then analysed and a report is generated. This report allows teachers and fit4schools trainers to identify sporting G/T children and those who require intervention support. It also allows you to view how different groups are performing such as year-groups, Key Stage, class and gender, SEN and Pupil Premium children. therefore the school is able to track, monitor and assess individual children. Additionally and importantly, children are given personalised online training cards specific for their ability.
Fit4schools impact in schools that follow the fit4schools programme has been testimony to the success so far with an overall average school improvement of 24%. Children become inspired and determined to improve on their previous best and this creates a fun, enthusiastic and competitive environment.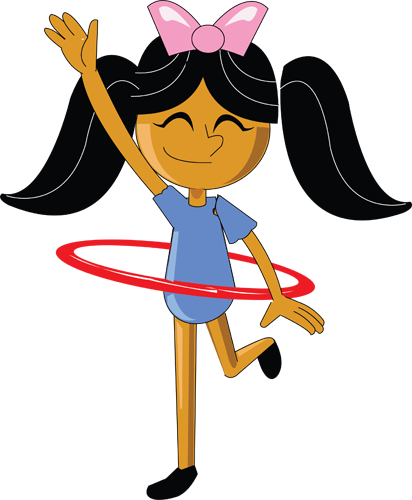 Hoola-hoop Hannah says exercise!
St. Bernard's Catholic Primary School
Sports Premium statements and evaluation
Sports Premium IMPACT statement & development 2016-2017
Sports Premium IMPACT statement & development 2017-2018
Sports Premium IMPACT statement & development 2018-2019
Sports Premium IMPACT statement & development 2019-2020
HOT OFF THE CYCLING PRESS

As part of the Y6 transition process, the school has managed to access funding from the City Council Birmingham Cycling Revolution programme. The school has 2 new smart cycling/scooter shelter areas situated in the respective playgrounds. Bikeability training will provide our Y6 cyclists with expert bike and road safety training and will encourage the children to cycle to school and more importantly, continue to cycle to their respective secondary schools. If you want to know more about how you can get your family cycling more, visit the Birmingham Cycle Revolution website (simply CLICK on the logo above).